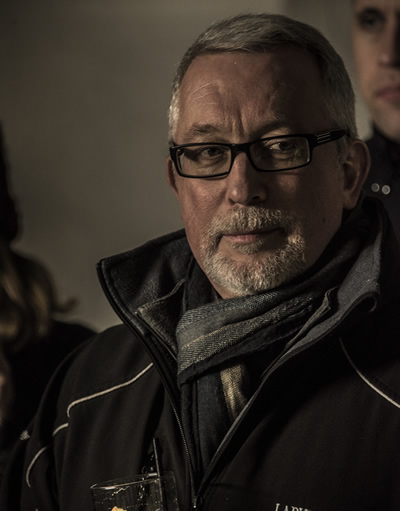 We were delighted when Beam Suntory master blender and strategic inventory manager Ron Welsh agreed to have a chat with us. Not only is Ron great company; he's also fascinating to talk with due to his vast industry experience and the high level of strategic focus required in his role.
While all companies of course plan in the long term, at Beam strategic planning very much falls under the remit of the master blender: "My role is perhaps slightly unusual in that everything we do today is focused on what we will need in the future," Ron explains. "I oversee spirit quality, for new and maturing inventory, the current and future spirit production requirements and the cask purchasing plan for our filling policy – all with the wider objective of ensuring Beam can continue to meet future demand."
Good Things come to those who wait
An obvious challenge for somebody in this type of role is how to maintain focus and motivation when the product you're slaving over may not even come to fruition during your working lifetime. "I've been in the industry for twenty five years – in inventory and quality for twelve years – so there's whisky coming through now with which I was involved fifteen years ago," Ron explains. "That's very rewarding."
Of course, not everyone would have such a long term perspective – and perhaps even less so in our modern always-on, instant gratification-led world. Fortunately, Ron takes a rather more long term view: "The next person in this role will benefit from the work I'm doing today," he says with admirable foresight.
Recipe for a Good Master Blender
When asked what he enjoys most about his job, Ron talks enthusiastically about the task of creating new whiskies from available inventory: "I enjoy both the challenge and the end result," he explains. "Blends tend to come about in one of two ways: Firstly, I develop a blend and put it out as a potential brand – this approach is about the conception and delivery of a personal vision.
"Secondly, I may develop a blend to a specified criteria: So someone will say, 'I want a Scotch that tastes as follows'. This is a completely different challenge, but equally satisfying. It's like a puzzle: How can I do what they've asked with what is available?"
So what is it that makes a good Master Blender? "An analytical mind and a good sense of smell," Ron replies. "Plus a really good memory: you have to recall past actions and results, as this enables you to make good decisions based on prior experience."
"And you need a good head for numbers: You have to be able to look at your inventory and see how it can be used over different ages; how it could be used in different ways in five, ten, or fifteen years. How does all this fit with the forecast?"
It is fascinating to note that while there are clearly elements of both the artisan and the scientist in the master blender role, Ron appears to lean somewhat towards the latter – perhaps no surprise, in light of his chemical engineering background, which he says offered a good foundation for his career.
Technology's Role
Given Ron's scientific leaning it is unsurprising to learn that technology is a critical component in his master blending toolkit: Ron is a DRAMS Superuser and very much an advocate: "DRAMS is a great inventory management system. It allows me to quickly analyse the stocks we have and what we can use it for; and allows us to easily allocate to future blends."
But perhaps the most interesting development here relates to how DRAMS is evolving to meet Ron's requirements for longer term planning: "Ensuring long term forecasts are realistic is the hardest part of my job," says Ron. "Spreadsheets are not accurate enough: we know we have sufficient spirit, but we don't have the detail we require," he says.
"Year by year data is fine when you have excess stock, but when you are producing the world's seventh largest single Scotch malt you need to know exactly what you have and when it becomes of age to put into bottle. For this you require granularity of month by month data."
This is the rationale behind investment in DRAMS Long Term Planning, which Ron believes will transform the way that his team operates: "The decisions we make define what we produce; when we need to expand; when we purchase land and build warehouses; and how much to spend on casks," Ron says. "It's a lot of money, so we have to get it right."
For more detailed insights on the DRAMS platform and its Long-Term Planning module, download our solution sheet. 
An Eye on the Future
In many ways the industry is changing faster than ever before: "Innovation is a huge part now. Twenty five years ago each brand had two or three expressions; now it is fifteen or twenty – plus limited offers," Ron explains. "This is being driven both by new distilleries entering the market, and the existing industry looking at itself and trying to grow."
"Things are more competitive now, and consumers aren't loyal to brands in the way they once were. Modern customers may want several different drink experiences through a single evening. It's our job to catch the consumer at the right time and place – and with the product they want. That's much harder."
So how is Ron competing? "We of course measure the success of new expressions and the growth of standard expressions," says Ron. "But we also enter whisky competitions and blind tastings – we're doing more of this as it offers a good indication of how we compare."
Ongoing Learning
And of course, Ron is always learning. "There's a lot of learning on the job, involving nosing new spirits, reviewing cask styles, looking at inventory models, and other industries," says Ron. "And my team is very experienced, so there's a lot of learning from within.
"But again, all of the above is done in a scientific manner in order to drive long term planning; it's not haphazard. Though having said that, I can often be found in the airport duty free perusing the whisky shelves checking out what our competitors are doing," he concludes with a laugh.
For more recent insights into some of the industry challenges related to the long-term planning of spirit production and inventory management, access our article here.